Areas of activity
We create the equipment for your success
We share our know-how and experience with partners, providing a holistic business concept called Corrugated Pipe Solutions - CPS.
Application

Chimneys

Ventilation, Air-conditioning

Post-tensioning

Exhaust
Company
DROSSBACH is your reliable business partner for corrugated pipes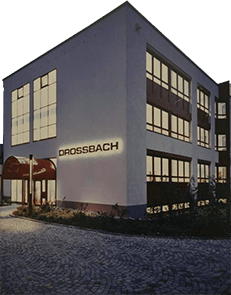 Main office DROSSBACH Bavaria, Germany
Since 1919, DROSSBACH has focused on the development of lightweight, durable pipes and efficient production technology. For our customers, we are a versatile provider of finished solutions.
We share our know-how and experience with customers and partners and offer a holistic business concept called Corrugated Pipe Solutions-CPS
Equipment
DROSSBACH pipe machines
At DROSSBACH we have got a long tradition to align our products, machines and services with customer´s needs and their special market requirements. We started our business more than 100 years ago as an ordinary pipe producer, then we developed our first capable machines for the production of pipes and we are still going strong with it.
Our machines are successfully in action all around the world, the name DROSSBACH became a common noun for an appropriate pipe in many countries. Therefore, it is obvious that our pipe machines are optimised in respect of quality, cost per piece and productivity and that benefits all DROSSBACH clients all over the world.
Innovations
Our innovative developments
DROSSBACH develops and manufactures equipment for the production of corrugated pipes of various diameters and applications with more than 50 years of experience.
Our know-how of a system provider is constantly being supplemented thanks to the requests and ideas of our customers and partners.
All this contributes to the system of innovation and quality management, ensuring a continuous process of improvement.
Drossbach map
Drossbach Projects
Equipment for the production of metal pipes
Equipment for the production of corrugated plastic pipes
After-sales service
Drossbach - always with you

Do you need a new pipe profile design?
We are ready to do it for you! In constant dialogue with you, we will develop the perfect pipe profile design specifically for your market.

Any issues with your line?
Here you will get all the necessary technical support. The earliest possible restoration of the equipment is our top priority.

Do you need spare parts for DROSSBACH equipment?
It doesn't matter which DROSSBACH machine you have or when you purchased it. We supply original spare parts for all DROSSBACH machines.
Feedback
If you have any questions, please contact us

We are always online and will respond to you as soon as possible
None of our Clients ' requests will remain unanswered.
Ask us a question, or send us a message with your name and contact details, and we will get back to.

The smooth operation of our customers' DROSSBACH equipment is the highest priority of DROSSBACH Maschinenbau GmbH.
If you need to carry out maintenance of the equipment, or if you have any questions about its operation, troubleshooting or modernization, please fill out a short application form and we will contact you without delay.

Fill out the form with your contact details, the serial number of the equipment, as well as the spare parts that you need.
The responsible employee of the spare parts and consumables department will contact you to clarify the order and inform you about the delivery time.
Sales Department
Service Department
Spare Parts Department